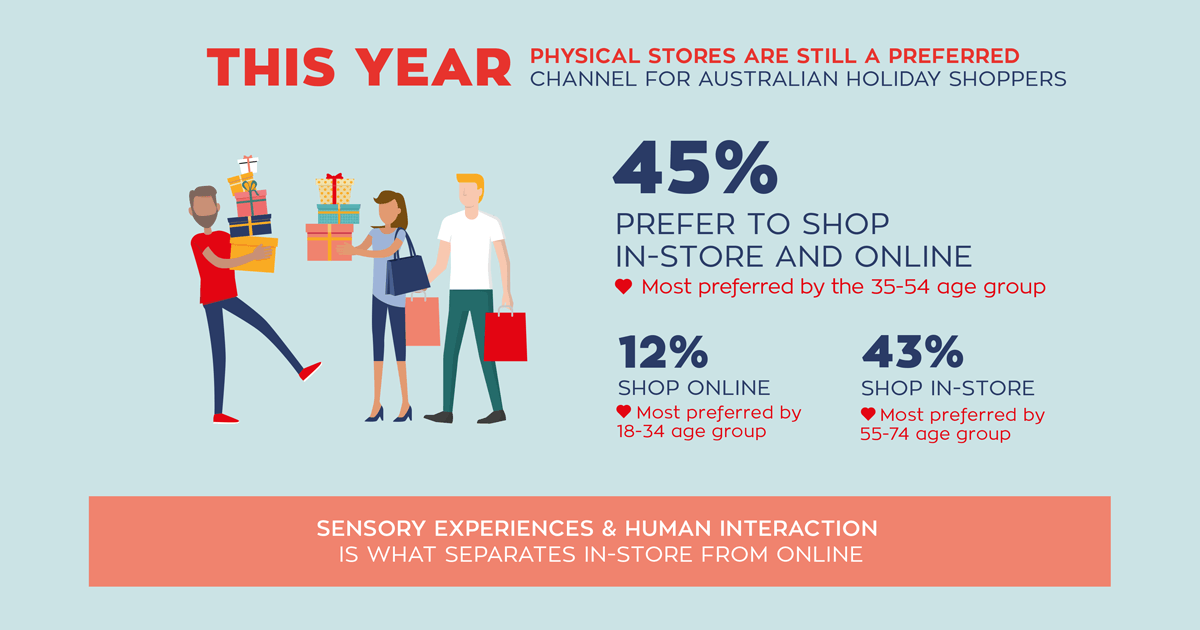 To better understand where and when shoppers will be spending their hard-earned time and money during this year Christmas period, we surveyed 500 Australians in partnership with CXI Research Group from the Swinburne Business School.
"To help our clients capitalise on the gift-buying madness", said Nabib Awad, General Manager, Retail Safari, "our annual Christmas Shopping Intentions report offers findings such as spending plans, where and when consumers intend to shop, what they plan to buy, and the reasons why shoppers prefer to shop in-store. These cardinal insights help determine sales merchandising and activations tactics for this major trading period. Just before the rise in holiday activity, our aim is to arm clients with a deep view of expected purchasing behaviour while eensuring they're making the most of their retail investments this season."
Here are five key insights from our 2018 Christmas Shopping Intentions study that we've shared with our clients that will be driving successful retailing this holiday season:
1. PROVIDE HIGH-TOUCH SHOPPING INTERACTIONS
For the third year running, the "ability to see & touch" the product remains the top reason (75%) by a large margin for shopping in physical stores instead of shopping online.
2. MAKE STAFF AVAILABLE SINCE SHOPPERS STILL WANT TO TALK
Although some purchases will be made online, the physical store still has a role to play in Christmas shopping. Twenty-two percent of consumers are more likely to buy when helped by a knowledgeable associate (up from 15%).
3. ATTENTION ALL DEPARTMENT STORES – SHOPPERS ARE COMING
The study reveals that the department store retail format will see an increase of 11% this year. A healthy percentage of 56% of those surveyed plans on spending their share of wallet at department stores.
4. STOCK UP ON GIFT CARDS
Gifting gift cards are on the rise again this season. With one in two shoppers intending to purchase from this category (52%), gift cards or gift certificates remain the popular gift this year.
5. CRAFT SEAMLESS EXPERIENCES
Whether the shopping interaction takes place via face to face, email, phone, or social media, customers are looking for consistent seamless experiences. Therefore, to get the most out of this vital trading period, craft your experiences with memorable and seamless encounters that your customers can't receive from any other channel.
Click here to download Australians Christmas Shopping Intentions Infographic