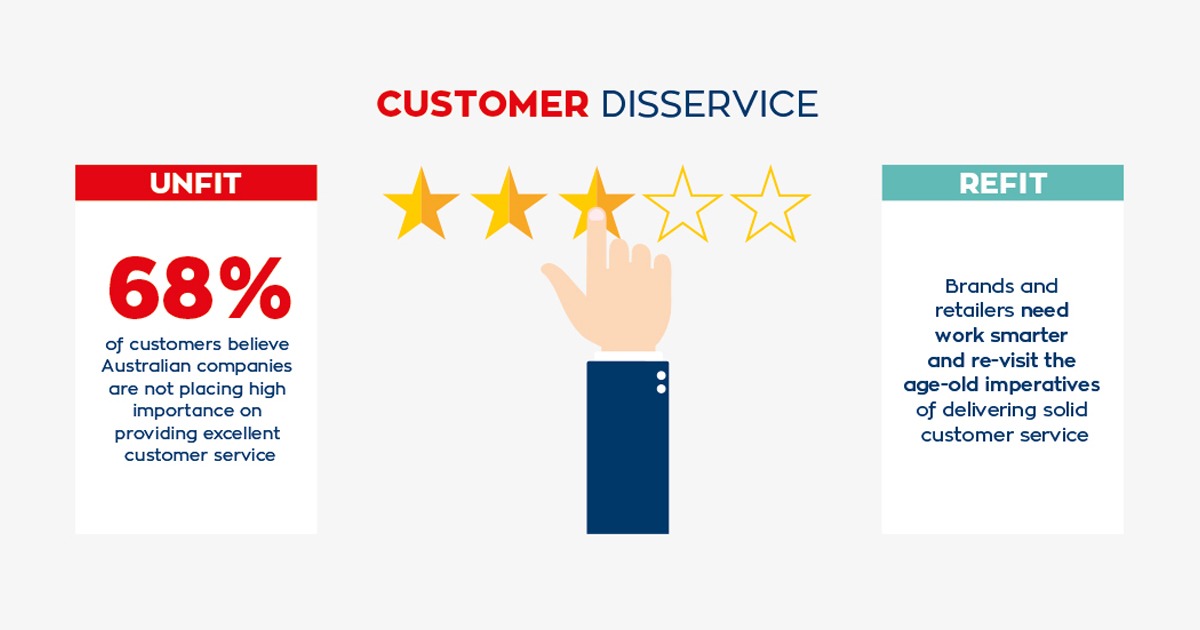 In today's retail universe, brands are constantly rolling out new technologies, designing novel concepts and even applying clever publicity stunts. Each of these investments and innovations are attempts at competing for the attention, time and share of pocket of the digitally empowered consumers.
Yet too few brands understand that – in the course of these digital disruptions and advancements – the fundamentals of great customer service still remain the same. Similar to a relationship between two human beings, their rapport is built on an interaction and a shared activity. In the retail environment these unions play out the same vein – shoppers are wanting brand-consumer relationships where there have emotional connections and where their needs are being validated.
To better understand the ever-changing behaviour and feelings of today's hyper-connected consumer, we partnered with The CXI Research Group to explore latest customer sentiment across Australia's shifting retail model.
"For the third year running," said Andrew Potter, Group Managing Director, CPM Australia. "The State of Customer Service in Australia Report provides us with invaluable customer intelligence and insights surrounding customer service touchpoints. By understanding the biggest impact on shopper behaviour across the retail and sales industry, we're better equipped to help future proof our clients' retail strategy and arm them with the latest customer service trends."
Here are five key insights that are shaping customer service landscape across Australia:
1. IMPORTANCE OF REAL PEOPLE
Australians still believe that humans play a major role in the customer service experience. This survey reconfirms that a positive or negative experience has a profound impact on future purchases. Despite the rise in digital touchpoints, human engagement is by far the channel of choice. For both simple and complex enquiries, most customers prefer speaking with a 'real' person, either on the phone or in person.
68% believe Australian companies are not placing high importance on providing excellent customer service
30% have stopped shopping at a company because of poor customer service.
49% have had a mix of experiences when purchasing products and services in-store or online in the last three months.
66% want to speak to a real person when solving a problem or query
2. KNOWLEDGE IS POWER
The most important factors to consumers include accessing knowledgeable representatives and the correct information. For consumers, excellent customer service is about getting the right information when they need it:
65% rate "accessing knowledgeable representatives" as very high importance
64% want their query resolved on the first attempt
64% wish to speak with someone in Australia
3. TOP REASONS FOR ENDING BRAND RELATIONSHIPS
The study also reveals that the most common reasons to stop purchasing from a company after a poor experience is generally linked to how the company handles interactions with its customers. For the third year running, consumers expect polite staff, consistent information across both digital and human interactions and first contact resolution. If they don't receive these, they may stop purchasing from a company.
Similar to human relationships, this insight reminds us that brands and retailers must review the principles of traditional relationship building and apply them to the overall customer experience.
4. NEGATIVE STORIES ARE SPREAD MORE WIDELY
Consumers are more likely to be vocal about negative experiences over positive ones:
70% of consumers share their customer service experiences with others
75% of customers share a negative experience while 66% share positive encounters
Majority of customers continue to tell 1-5 people about their customer service experiences, with 57% of customers having shared a negative experience, and 49% having shared a
positive one.
5. SOCIAL CHANNELS REMAIN UNPOPULAR
When it comes to simple and complex queries, social media and postal mail are the least preferred customer service channels. The top preferred communication channels for customer service based on enquiry type include:
Speaking with a real person on the phone
Face -to -face (in store)
Email
"This study is a good reminder that the customer service principles have not changed," said Andrew Potter. "The entire retail sector still run on a brand-consumer relationship. Shoppers still want to be recognised, heard, validated, and cared for as individuals. 'Feeling' is still the foundation of how purchasing decisions are made and savvy consumers still rely on emotions rather than information when buying products and/or services."
"Despite the evolution of digital applications and branded publicity stunts, it's human nature for shoppers to still rely heavily on emotions when making purchasing decisions," concludes Andrew Potter. "This study reminds us that we feel our way to reason and that in order to be masters of connecting emotionally with our customers; both brands and retailers need work smarter and re-visit the age-old imperatives of delivering solid customer service."
Click here to view the 2018 State of Customer Service in Australia infographic.
-end-
In developing this third edition, we commissioned this study through The CXI Research Group ExChange Pulse via an online survey with a sample size of 530 shoppers representing the Australian population (December 2018).