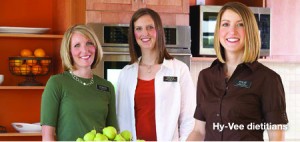 As food is very 'in' right now and customers love to ask for advice when they are in-store, it has become more prevalent across supermarkets in the US to start experimenting having chefs and health professional in-stores.
The Food Channel network stated "the supermarket concierge" to be one of the top food trends for 2013. An in-house chef can offer cooking classes and also direct consumers to the best cheese, best meats, and best baked goods while shopping.
Additionally, the number of retail dieticians is growing in the US, currently there are over 500 and it is expected to double over the next two years. Hy-Vee, Wegmans and Giant Eagle are the first supermarket chains adopting this idea. This brings a valuable new aspect to consumer's daily shop and offers a new personalised diet and nutrition advice which enhances consumers shopping experience.
Supermarkets hiring dieticians to help with sales