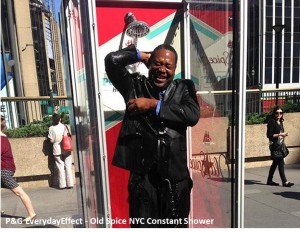 Procter & Gamble held a massive sampling event in New York City on June 19 in five pop-up temporary locations that resembled big blue "experience boxes" across the city. The EverydayEffect event aimed to build awareness about P&G's brands after it found that while the average American household uses ten P&G products, most consumers could only name two or three brands. It also wanted to remind New Yorkers of just that: that those everyday things can make all the difference to your family and your life.
The "experience boxes" were constructed on busy street corners and more than 40,000 trial-size products from 25 of P&G's brands were given out. Stylists gave tips and offered product demonstrations ranging from free shaves to beauty touch-ups and celebrities made appearances. There were also teams roaming the streets giving out samples as well as a pedi-cab offering free rides and samples throughout the city.
As P&G plans to spend more on marketing initiatives in general, it seems that it is going back to basics by using sampling events and is planning to send people door-to-door with samples to get brand recognition. Although the company wouldn't say what it is spending on the trial-product blitz in New York, it was described in a Businessweek article as the biggest "consumer experience" event in P&G's 175-year history.
The Logic Behind P&G's Old-School Manhattan Giveaway
Behind the Scenes of the #EverydayEffect
Video: Old Spice New York City Constant Shower – #EverydayEffect