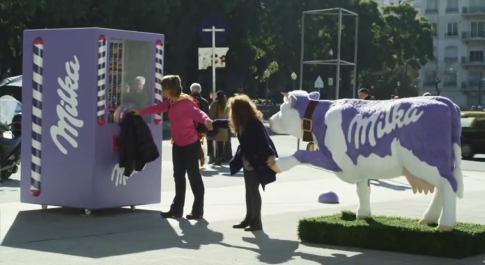 Did someone say free chocolate? That's right, the Swiss-based chocolate company, Milka, created an engaging campaign "Dare To Be Tender" which compelled people to think collaboratively and interact with one another just to get a free chocolate.
A vending machine was placed in a public space in Argentina filled with chocolate bars, yet the machine had no slot for coins. With a life-size branded Milka cow located a few feet away from the machine, passersby were puzzled as to how to get access to those tempting chocolate bars. After some experimenting, they soon discovered that by joining hands with one another to form a chain between the vending machine and cow, the machine would dispense the chocolate bars.
This innovative approach has generated a memorable experience, giving people the opportunity to try the product in an original and engaging way.
Vending Machine dispenses free chocolate when stranger holds hands
Video: Dare to be tender